AMA Recap: ORBITAU x GameFi.org
SEKIE
Feb 19, 2022•9 min read
Welcome GameFi members,
This recap is for those who could not join the AMA GameFi with ORBITAU hosted on February 18th, 2021.
We are so glad to introduce our partner, ORBITAU — is a fantasy game inspired by Norse Mythology and the Seven Deadly Sins that offers unique experiences based on well-known stories.
Mr. Minh Nguyen, the CEO/CTO of Orbitau provided information about the project's features, some special insight into the game vision, upcoming plans, etc.
The AMA included 3 segments:
Segment 1: Guest and Project Intro
Segment 2: Twitter Questions
Segment 3: Live Community Questions
Winners shared a pool prize of $300 .
Below is section 1: Guests and Project introduction
Host: Hey GameFi Community! Please welcome our guest for today, Mr. Minh Nguyen, the Chief Executive Officer/CTO of Orbitau 👏
How are you today @tepmatt? 🤩
Mr. MATT: I'm doing great, thanks Jane.
Host: Awesome! Without further ado, let's begin our AMA. Gogo
First of all, we would like to know about you and the team behind project. Can you share about you and your team?
Mr. MATT: a little bit about myself, I've been in the Fintech space for most of my career, working at Citibank (UK and Japan), Goldman Sachs (New York), etc. and more recently PayPal where I help built the PayPal Singapore from a regional office to become the APAC headquarters with 300+ engineers and 200+ staff on the business side.
After PayPal, I moved back to Vietnam and since then have built a leading EduTech platform serving 2M users for ILA (largest education company in Vietnam), and most recently, co-founded beGroup as the CTO, it's the 2nd largest ride-hailing, delivery platform (with 12M active users) and also the fastest growing digital bank (Cake) in Vietnam. Cake has reached 1M users only after less than a year of launch.
Although I've been working on Fintech and e-commerce platforms for the past 15 years, my computer science degree at the University of Texas Austin was indeed a Game Development concentration and I did start my early years as a game engine developer at a studio in Austin, working on titles such as The Sims, Shark Tale, Tony Hawk.
With my experience in Fintech and my passion for game development, and the belief that blockchain technology and decentralized finance will be the future, I decided to start this project, with the vision to build a complete DeFi ecosystem for the long-term. And the great way to start would be a GameFi project, hence introducing Orbitau — our first game in the ecosystem.
And behind the Orbitau project is my team — F6 Galaxy, the team was born with a mission to create a leading DeFi ecosystem. We are a team of highly trained professionals with an average experience of 11 plus years in the deep-tech industry as well as building enterprises with an accumulated value of over 500 millions USD.
our company leadership is made up of experts in their very own field with past-experiences at various Tier 1 enterprises and startups such as Paypal, Google, Havas, CMN Online, Microsoft, BeGroup, Agribank, etc. ensuring a concrete corporate foundation to withhold any challenges that may come. You can check out the team on our website as well
Host: With such an extensive knowledge and experience, this project would be a hit in no time! 🤩
You must have a very dynamic team. They have strong background and knowledge as well 🤩
Mr. MATT: well yeah, we've known and worked with each other on several projects, and with the passion for crypto and games, here we are starting this project.
Host: So, please give a brief introduction of What is ORBITAU?
Mr. MATT:
As I mentioned above, based on the current trend, we believe GameFi is the shortest way of reaching out to the huge potential customer base. Hence the team decided to start with Orbitau, our first game based on the TAUREUM token.
Orbitau — Seven Deadly Sins is turn-based idle combat/socializing game suitable for everyone to play. It's a fantasy game inspired by Norse Mythology and the Seven Deadly Sins, and provides players with new experiences based on well-known legends.
in Orbitau, players will directly participate in the Demon — God war with the familiar role-playing and turn-based strategy gameplay in a magical land of mixed reality and fiction created by blockchain technology. And the rewards are materially valuable, not just symbolic victories.
Check some graphics screen from our game :) HERE
Host: Where are we now in the roadmap ? What are your plans after IGO?
Mr. MATT:
well, we've come quite a long way, unlike most of other gamefi projects trying to rush into fundraising and IGO, we wanted to make sure we do each step right.
we funded ourselves and formed the tech team back in August and completed the back-end for a basic DeFi system, a testnet for our game, within 3 months.
only until we were confident with our technologies, we completed our whitepaper started with fundraising, welcoming AU21, X21, NGC, LD, Icetea Labs, etc. as our early backers, and for only 3 weeks, we have raised almost $3M.
After the fundraising, we focused on revamping our graphics, visuals, started our MKT and community, reaching 100K+ members within a week.
Along the way, we built a full team of economics experts, coming from Uber, beGroup to lay a foundation on our economic models and we currently focus on making sure the game is developed properly and released with the most fairness to our players.
After the IGO we will continue to work on our roadmap for more exciting features of the game.
Host: Looking forward for your upcoming events and activities!
Thank you so much for a very good introduction about your project.
In segment 2, the team picked questions from the Twitter announcement to answer in this AMA session.
Host: Awhile ago the team have chosen 5 questions from Twitter. Here is the announcement link: https://twitter.com/GameFi_Official/status/1494189872915091457
Alright, here's the first question from @DoinbNFT
As this is a potential project from our home country, Viet Nam, is there any strategy or strengths to bring this project reach international communities? If possible, could you explain it to make the project more attractive and clearer to our community.
Mr. MATT:
Reaching the international audience has always been our goal! In order to do so, we believe world-class elements are needed.
First of all, a world-class vision: every day after work, everyone can play our games, whether at the train or at home, and be fully entertained. Our game will be so simple to onboard and play, but at the same time, players will find themselves with a storyline so interesting, and plots so difficult to forget!
Secondly, a world-class team. We have accumulated a very strong team, one has done many large projects together. Thus, our very bond with one another, and the dependency between our different skill sets will allow us to build great things together for a long term to come!
Finally, a world-class attitude. We know that we cannot think of every single thing, so we choose to listen to our community, we choose to stay humble and listen to your feedbacks, your wishes, your desires. So that together, Orbitau will be a game that has the most contribution from the community, and not solely from us
Host: from @yahabibi1n
My fund is very precious to me and I am concerned about the Audit level of this project. Have you Audited and even rechecked before launching on the exchanges and which Audit company is responsible for this?
How many Team do you have I can see few?
Mr. MATT: we are proud to say that our team has built multi-million dollar enterprise systems that cater to millions of people internationally. Here is our infrastructure for your reference.
Furthermore, we have done our audit with Verichain, one of the biggest crypto auditors. Details can be found here: https://orbitau.io/audit.pdf
Host: 3rd question from @hwanleeseok NFT are growing rapidly, there are many games that followed the type of role-playing and turn-based game, which are already succeeded in the past few years. What are the ultilities of your NFT in game and in the ecosystem? Can I have passive income if I am a NFT owner?
Mr. MATT:
for sure you can via our marketplace, which we are aiming to launch on the first or second week of March. We have already got the system for the marketplace done actually, we are just fine tuning the UI/UX for production
first of all, we have set aside lots of revenue streams for players around NFTs, including Egg NFT, Hero NFT, gem, land, decoration items, etc…They are all NFTs that you can collect and trade via our own market, as well as other open market in the future
We actually have our INO plan explored and will let everyone know more details at the later stage. We are keeping it a secret for now ;)
Overall, working from the players and our users perspective, we will achieve a long term, sustainable way of business and entertainment
Host: 4th question from @KingTitli
Earning in the game is important, but with me that having fun while earning is also important. To what extent does #Orbitau focus on the entertaining aspects of the game? What measures are in place to help make the game suitable for everyone, including non-crypto people?
Mr. MATT:
same with us as well! We are hardcore gamers, thus we love nothing more to see an exciting game. And with Orbitau, we are building it so we ourselves can play and be entertained!
That is why you can see from our website, we have a very strong art and gaming development team which are all in-house. This is a clear indication of our dedication to create Orbitau as entertaining as possible.
Having an in-house team also allows us to be extremely flexible. We listen to the community, of both crypto and non-crypto gamers, and from that, we can easily adapt or make changes that the people want!
Host: from @KhoaMTrann
Besides heros, eggs, pets and items in Orbitau, is there any additional way for players to earn from? Do rare items and pets that have been mentioned in your project, are dropped from these quests that defeat Norse gods?
Mr. MATT: That's a good question 😊 Yes. We have many exciting new features, allowing players to maximize their earning and shorten ROI. The rare items will drop on a random basis depending on various scenarios and quests, so do expect to receive these substantial rewards if you do win!
Another exciting feature we have is called Idle-to-Earn, where you just have to leave your hero into our idle space (it can be a spa, a forest, etc.) and depending on the time you idle, you will be able to earn great rewards! We have a lot more of these to come, so follow our channels for more of these updates!
Host: You're features are unique and very fantastic! Thank you so much for answering the questions from Twitter Community.
In segment 3, ORBITAU TEAM answered live questions from the community.
UNMUTING THE CHAT ‼️
Host: Thank you everyone for your overwhelming support. The stage is now yours 👏
1/ Can you tell me more details on the IDO? The schedule and contribution for each?
We will be on GameFi on Feb 22, and another launchpad on Feb 23, please follow our channels for details of how you can participate.
2/Many projects have problems with UI / UX and this one turns off new users. How do you plan to improve the interaction with new users and with users outside the crypto space?
As I mentioned above, our teams include top tier experts building traditional games with millions of users before, so we focus our attention very much on the graphics, UI/UX to make sure it's a fun and exciting experience for even the most hard-core gamers 😊
3/ How can users stay updated with this project? Are there channels, including local communities where users can get the latest updates?
📌📌Our channels:
🌐 Website: https://orbitau.io
🐦 Twitter: https://twitter.com/OrbitauOfficial
🌏 Telegram Announcement: https://t.me/OrbitauAnnouncements
🌏 Telegram: https://t.me/OrbitauGlobal
👉Facebook: https://www.facebook.com/OrbitauOfficial
👉Reddit: https://www.reddit.com/user/OrbitauOfficial
👉Discord: https://discord.gg/Orbitau
👉Medium: https://medium.com/@OrbitauOfficial
➖➖➖➖➖➖➖➖➖➖
📌Orbitau local communities:
🇻🇳 Orbitau Vietnam: https://t.me/OrbitauVietnam
🇧🇷 Orbitau Brazil: https://t.me/OrbitauBrazil
🇧🇩 Orbitau Bangladesh: https://t.me/OrbitauBangladesh
🇹🇭 Orbitau Thailand: https://t.me/OrbitauThailand
🇵🇭 Orbitau Philippines: https://t.me/OrbitauPhilippines
🇮🇩 Orbitau Indonesia: https://t.me/OrbitauIndo
🇲🇾 Orbitau Malaysia: https://t.me/OrbitauMalaysia
🇰🇷 Orbitau Korea: https://t.me/OrbitauKorea
🇯🇵 Orbitau Japan: https://t.me/OrbitauJapan
4/ How old is Your project? What are the major plans ahead? Could you show us an image of your roadmap?
We started our project back in August of last year, and above is our roadmap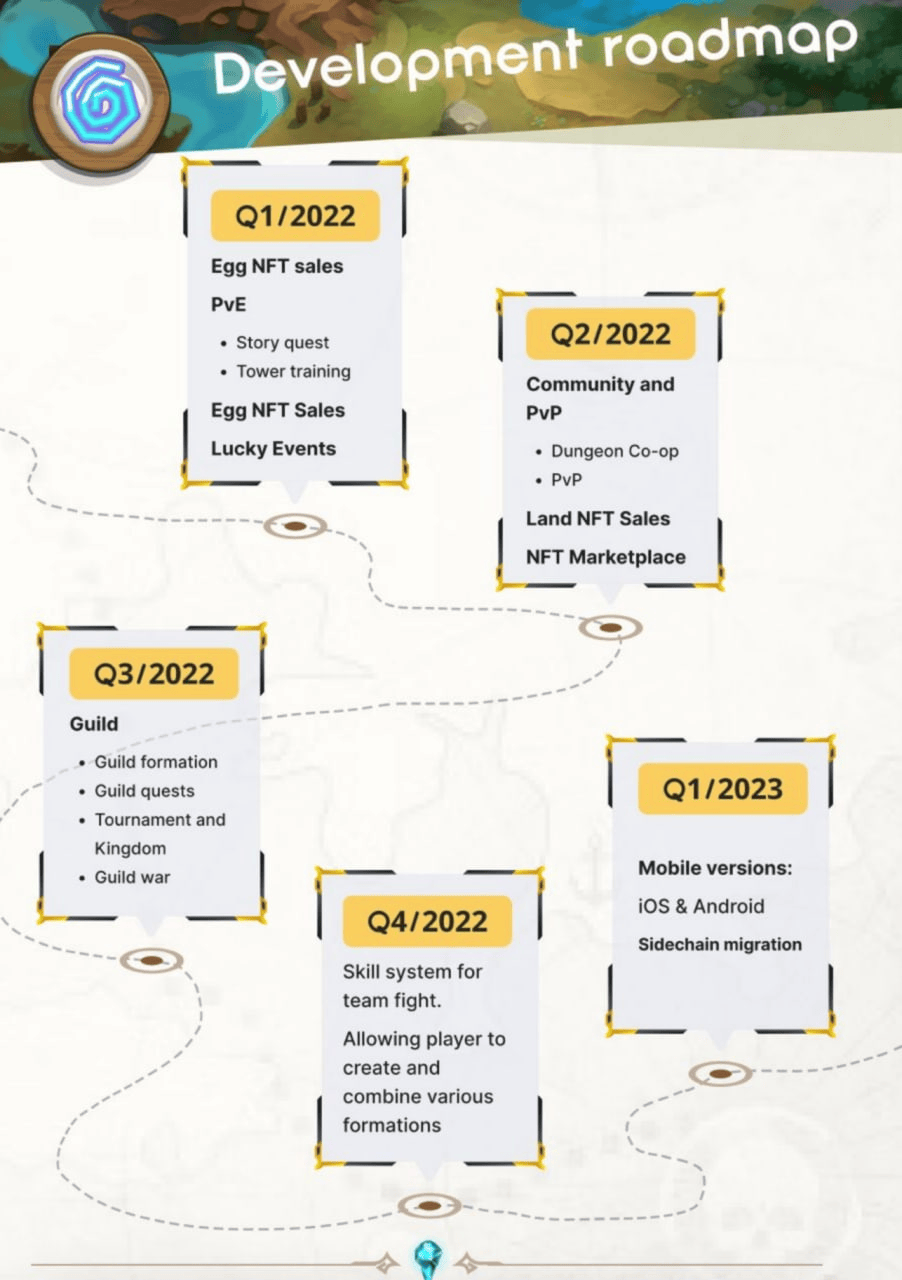 5/ What are the benefits of holding your token as long term investment? Can you tell us about the motivation and benefits for investors to keep the your token in the long run?
As I briefly talked about earlier, we are in this space to create a long-term DeFi solutions that solve some of the challenges that traditional finance systems could not, so the more you are with us, the more value we will bring to our community with our services
Host: You did a very great job in choosing the questions and answering them. We have gained more knowledge about your project.
Mr.MATT: it's my pleasure as well, thank you everyone for joining today.
About GameFi.org
GameFi.org is an all-encompassing hub for game finance. Its ecosystem features Aggregator, Launchpad, Marketplace, Yield Guilds, Metaverse, and Feature G. GameFi.org was created to work out problems that most game studios have encountered and discovered effective ways in developing a platform that builds relationships with game players, token holders, and traders all in one place.
Website | Twitter | Telegram Channel | Main Chat | Discord | Facebook | LinkedIn |
Tags
Author
SEKIE
I do not Direct Message you first but I Direct Your Heart ❤️.