ETHLAS - PIONEERING THE FUTURE OF GAMING WITH WEB3 TECHNOLOGY

PNT
Jun 22, 2023•3 min read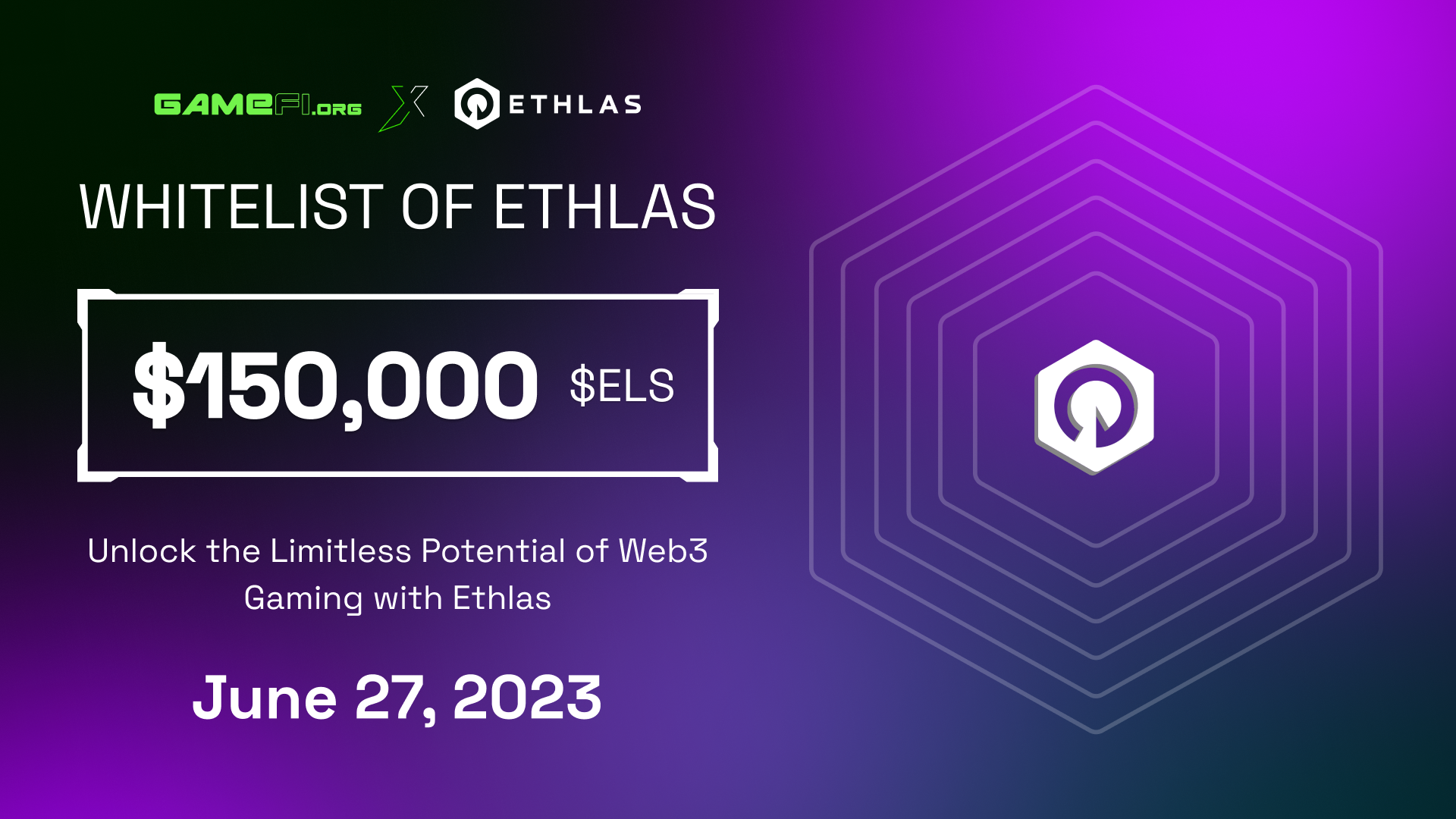 Ethlas is making Web3 accessible and safe for everyone, paving the way toward the future of gaming by using Web3 to unlock innovative and fresh user experiences.
Unlocking the next level of gaming experience with Ethlas!
🌟🌟WHY MISSING ETHLAS WOULD BE A CRIME?🌟🌟
👉🏻Solid support from 14 Web3 industrial leaders
Ethlas is funded by 14 investors, of which are the lead investors of Dragonfly, Makers Fund, and Yield Guild Games. In addition, Ethlas has also received funding from Sequoia Capital, Mechanism Capital, and others. With the support of these investors, Ethlas can continue to build innovative products and infrastructure that push the boundaries of Web3 gaming.
👉🏻Total raise reached 8.7M over 2 rounds
Ethlas, after an initial $2.7 million in seed funding, which was granted by Sequoia Capital India and several other leading venture capital firms, has recently disclosed that it secured an additional $6 million in an extended seed-funding round, with Dragonfly Capital, Makers Fund, and Yield Guild Games Southeast Asia as the primary investors.
👉🏻Tremendous traction with 15M gameplays and strong player base
Ethlas has experienced significant success, as evidenced by the impressive metric of 15 million gameplays across their entire repertoire of games. Additionally, their platform boasts an impressive 28+ interoperable NFTs and their infrastructure powers over 30 games. Moreover, the community of Ethlas boasts a staggering 100,000 engaged players.
👉🏻Talented founding team with experience in leading brands
Ethlas' founding team is one of its key strengths, with talents who have years of experience at Google, Grab, JP Morgan, Microsoft,... The team is made up of members who are passionate about gaming and the transformative potential of Web3 technology. They have the expertise and drive to build innovative products and infrastructure that will shape the future of gaming.
🌟 24 HOURS REFUND FOR GAMEFI.ORG USERS
Instead of a 1-Hour Refund Policy, IDO participants can choose whether to Claim Purchased Tokens or Request a Refund within 24 HOURS after token listing or claiming time, whichever is later.
LEARN MORE ABOUT ETHLAS
WEBSITE | WHITEPAPER | DISCORD | MEDIUM | TWITTER

👇 IDO DETAILS:
_Staking pool: https://gamefi.org/igo/ethlas
_Token: $ELS
_Total raise: $150,000
_Price per token: $0.3
_Network for IDO: ETH
_Network for token: ETH
_Currency: USDT
_Vesting schedule: 20% unlock at TGE, 20% each following quarter
IDO TUTORIAL ON GAMEFI.ORG HERE
👇 TOKEN ALLOCATION DETAILS:
HOW TO JOIN?
1️⃣ Access & Connect Wallet on GameFi.org IDO Launchpad: https://gamefi.org/igo
2️⃣ Stake $GAFI at https://gamefi.org/staking to get Rookie rank at least.
To join IDOs, users need to stake $GAFI to reach one of these ranks on GameFi.org: Rookie, Elite, Pro, Legend. Refer to GameFi.org ranking system HERE
How to stake? Explore: How to Stake/Unstake $GAFI on GameFi.org?
3️⃣ KYC and Wait for Verification (24h-48h)
4️⃣ Apply Whitelist
Click [APPLY WHITELIST]. Fulfill the information of Twitter & Telegram usernames. Then click [APPLY WHITELIST] again.
Note: The requirements to join the whitelist are different for each pool and are decided by the project team.
5️⃣ Swap Tokens
After checking the Allocation and wallet balance, users could input the amount they want, or click [MAX] to auto-fill with their max. Then click  [APPROVE].
6️⃣ Claim Tokens
Choose [CLAIM] tab right next to [SWAP]. Click [CLAIM ON GAMEFI.ORG] to claim your tokens (This button will turn green when it reached the tokens' exact claim time).
Note: Depending on each IDO, users may claim tokens on GameFi.org or on an external website or receive an airdrop to a sub-wallet.
⏰ TIMELINE ⏰
_Registration time: 9:00 UTC, June 22 - June 26, 2023
_Winner announcement: June 26, 2023
_IDO date: June 27, 2023
_IDO's buying time (Phase 1 - guaranteed allocation): 7:00 UTC - 11:00 UTC June 27
_IDO's buying time (Phase 2 - FCFS): 11:00 UTC - 13:00 UTC June 27
_Listing date: June 28
Tags